Dashes and Shift Knobs
---
---


Unfortunately, this product is currently discontinued. Our "Meteor" style dash with VDO guages put in to show as an example. Note the holes for shift indicator LEDs. Turn signal indicators are above and beside the outermost guages, and a high beam indicator is located between and above the second and third guage.
Our present variety of dash designs: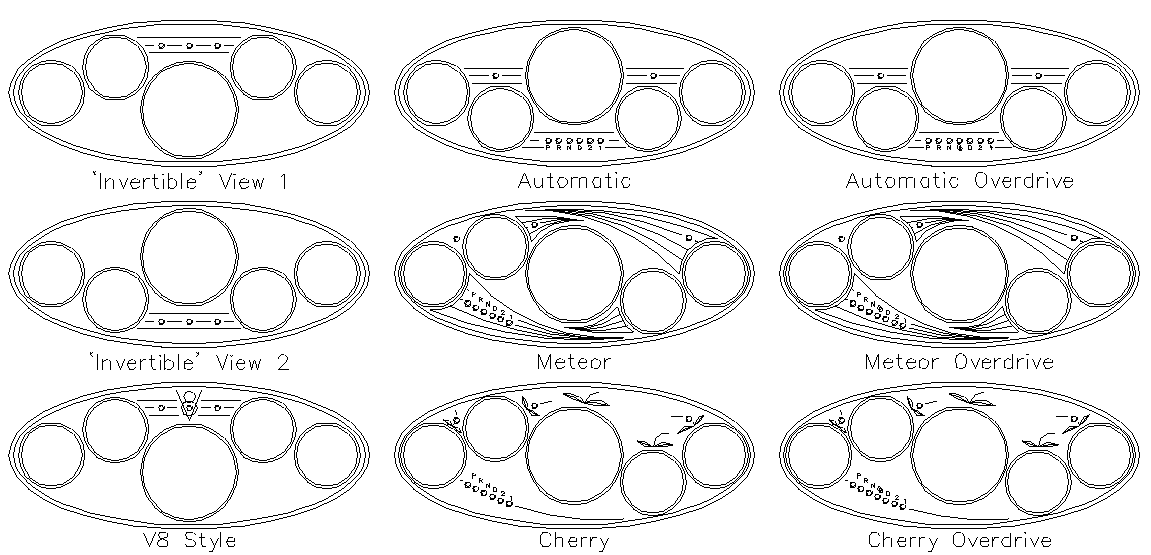 The standard finish is a satin brush finish. A polished finish is available at an extra charge. As a service to our customers, any design shown above can have features removed at no extra charge.
Street Dreams can also make inexpensive custom variations on these styles of dash inserts, as well as others styles, please call us. If the dash has a special shape and a sample dash is not available to us we will need an outline to work from. For best results that outline would need to be as precise as possible.
---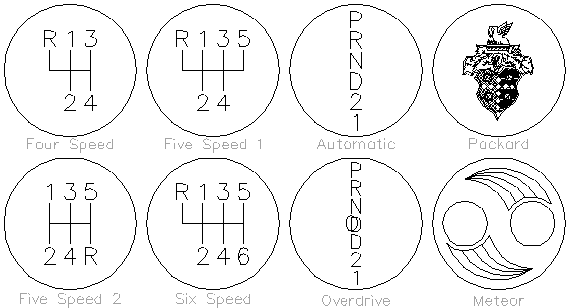 These designs are engraved on an insert which is placed in the top of the shift knob, with a flush fit in the top. More designs can be made, call us for a custom shift knob engraving.
---
Pricing and Ordering:

| | |
| --- | --- |
| Our product and price list for many of the parts we sell is here: | |
To order, paying with a credit card, call with a full description, and part numbers if Vintage Air or Walker parts are desired. Please do not email a credit card number. We accept Visa, MasterCard and American Express cards.
If you wish to mail your order, please print this form, fill it out and mail it to us.
---
Thank you for stopping by. New products may arrive on a monthly basis, so please visit again. We can also make custom variations on products we have. If we can be of service to you, please let us know.
Please click here to go to our home page.
Hours: Monday through Friday, 8am to 5pm, Eastern Standard Time
Contact info:
All trademarks and copyrights are property of their respective owners. Everything else on this site ©1999-2010 Street Dreams.

This website supports most modern web browsers. If you are having any trouble, please let us know.

Last updated 21 Dec., 2009