GM Small Block V8 Serpentine Drive Components
Serpentine drive components are available. We offer a harmonic balancer, tensioner, A/C compressor pulley, and two kinds of idler pulleys (smooth or multi-grooved) needed to arrange accessories in a serpentine drive arrangement on a GM V8 small block engine for fitting into the Fiero or a streetrod with limited engine bay clearance.
We also offer an engine cradle for the Fiero which has a couple of ears on it so that you may mount the A/C compressor.
Engine Adaptors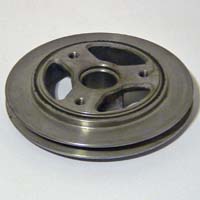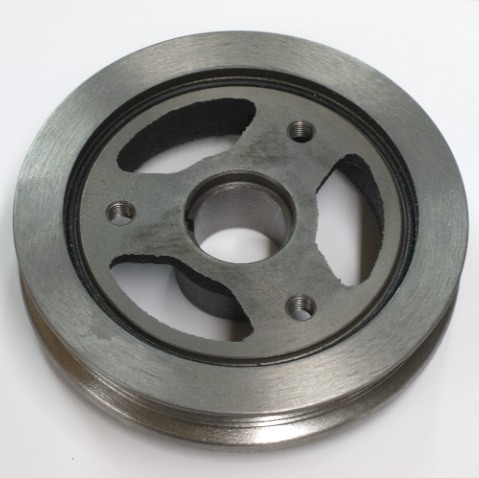 Thin profile harmonic balancer
for GM Small Block V8
<- V-belt Serpentine ->
Buy in Web Store
We have manual and automatic CNC-machined aluminum engine bell housing adaptors and flywheels to mount GM / Chevrolet fuel injected or carbureted small block engine to the Fiero or other GM transaxles. The LT1 engine is supported, but the Corvette LS1 engine is not currently supported.
The standard automatic bellhousing adapter requires cutting a small corner of the engine block to clear the transmission housing.
The "tilted" automatic bellhousing adapter does not require any cutting of the engine block but it rotates the engine about 5 degrees forward.
We have parts for mounting either automatic and manual transaxles, both with a choice of the two piece and one piece rear main seal small block engines.
Our bellhousing adapter plates and flywheels use standard, easy to find starters, similar to the kind used in an '84 Nissan Maxima. The starter cross references with: 70's Nissan 200SX, '78-'83 Nissan 280Z and 80's 720 Pickups.
The clutch that works with the manual flywheels we offer are those that work with a '92 S10 with a 2.8L V6 engine with manual transmissions. The friction disk is 9.5" diameter and the pressure plate has a 10.55" bolt circle. This clutch is be available at many auto parts stores.
Water Pump relocation kits

This relocation kit is for those vehicles where the GM small block engine is set very low in the chassis. This kit brings the water pump up 1-7/8 inches and toward the radiator about 1-3/4 inches. This kit is for kit cars, Fiero V8s, streetrods, or any application where space is at a premium.
The Inline Coolant Filler Neck is spliced into the upper radiator hose, and are used on Fieros when the radiator is lower than the engine block. They take a standard size radiator cap. The cap receptacle is welded to a cast flange. Aluminum 1.25" Inlet, 1.25" Outlet
The Radiator Cap is is a steel replacement radiator cap. It is rated at 12-16 pounds pressure.
Slim profile oil filter relocator engine block adaptor for oil filter relocator kits
New Complete Kit
All the parts needed to relocate the oil filter, including the Street Dreams By Ross, L.L.C.TM exclusive tight clearance adapter housing. The separate tight clearance housing will remain available for those that already purchased a kit elsewhere.
Both Street Dreams By Ross, L.L.C.TM automatic and manual bellhousing adaptors need an oil filter relocating kit, but this tight clearance adapter housing is only needed by those who are using an automatic transmission. Those that use the Automatic transmission adaptor find they need a tight clearance oil filter adaptor housing to be able to route hoses around the starter. This separate fitting still requires the rest of the parts that are included in a typical oil filter relocator kit.
The swivel oil fitting enables easy insertion and removal of an oil filter relocator kit's hoses, other kits on the market do not offer the swiveling feature on their included lines.
GM Small Block V8 to Fiero Engine mounts
We have two engine mount kits to mount different engines in a Fiero. The engine mount kit will work for mounting a GM / Chevrolet small block V8 engine into a fiero. It is made of 1/4" thick laser cut steel. They are not predrilled, the mounting holes need to be made on installation. We hope to make a pre-drilled engine mount kit in the future.
The Cradle Engine Mount is a laser cut steel plate that bolts to the "front" face of the engine block, and it includes a mount point for the A/C compressor. This is designed to be bolted to a piece of angle iron (not included). That angle iron would either be welded directly to the engine cradle or with holes mountable to the Fiero's stock cradle rubber mount. Multiple hole patterns allow a choice in engine heights.
The Side Engine Mounts are a rigid motor mount designed to reduce vibration. It includes an axle carrier bearing mount.
The Longitudinal Mount is predrilled to mount an older Toronado transaxle onto the Fiero's cradle. It, too, is made from 1/4" thick steel.
The Rigid Transaxle Mounts are designed to reduce vibration.
The Differential Rotator Plate and gaskets are used to rotate the differential on a GM V8 longitudinal transmission from Cadillac Eldorados, by 180 degrees. The compatible transmissions are 325 and 325 4L. The plate includes all the hardware needed to bolt between the transmission and differential. The custom gaskets are precision laser cut from 1/64" thick Fel-Pro brand gasket material.
To order, paying with a credit card, call with a full description, and part numbers if Vintage Air or Walker parts are desired. Please do not email a credit card number. We accept Visa, MasterCard and American Express cards.
Thank you for stopping by. New products may arrive on a monthly basis, so please visit again. We can also make custom variations on products we have. If we can be of service to you, please let us know.
This website supports most modern web browsers. If you are having any trouble, please let us know.
Last updated 18 Apr., 2013.